Coming out to your first event is exciting and requires very little preparation. It is fine if you don't have an elaborate costume ready or a class selected. We know that you may need to get to know the game first before you can make too many of the big decisions. If you do have your character planned, your gear built and your costume ready, that's great – you can start portraying your new persona immediately.
Your first stop at the event is the check in area. As a new player, you will need to fill out a release form and answer some questions from the secretary in the check in line to get you set up in our credit tracking system. This is also where your equipment will be checked for safety.
You will also need to attend New Player Introduction speeches for your first 5 events. In these short presentations, held at the beginning of every event by Knights of the Realm, you will get basic information about fighting and safety. This is a great opportunity for you to ask questions about anything relating to Darkon.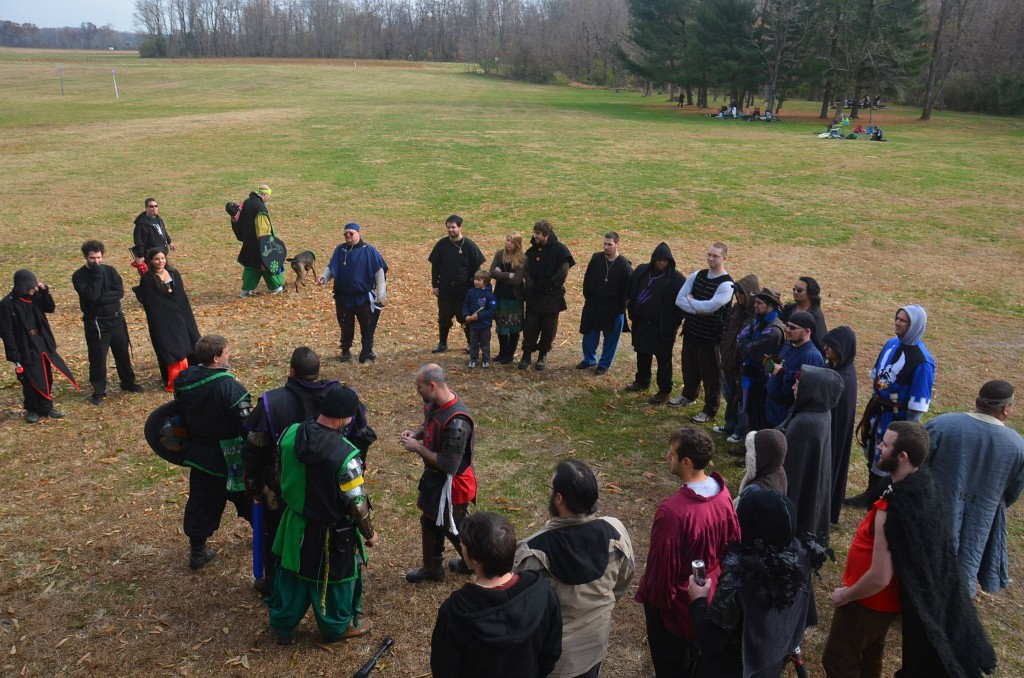 You might not have your own equipment at your first event. That's okay, You can almost always find someone willing to lend you a sword so that you can start playing right away. Veteran players and countries can usually pull together some equipment to lend to you for the day if you haven't yet had the time to make your own gear.
As a new player, you will have some weapon and armor restrictions for safety reasons until you get to know the game better. You cannot wear armor or use any weapon that needs two hands to control for your first 5 events. You will also have to get 10 events of experience under your belt before you can use a bow or crossbow. You can use a shield and any one handed weapon, like a sword or a mace.
All of our events require costuming for all of the participants, As a new player, you will have a 5 event grace period to get your costume together.  Until you have your costume ready, you can play in your regular clothes. Stick with shirts that have that have no images, dark sweatpants or other non-denim, non-cargo style pants, and brown or black boots or shoes.
The game is very welcoming to new players. After all, we've all been there at one time or another! You will definitely make some new friends by the end of your first day. If you come out to your first event and you are not sure what to do or you have questions, just stop someone and ask them. Any of our Marshals, Elders, Nobles or veteran players will be happy to point you in the right direction.