Bellum Aeternus X will run April 6-10 of 2022 in Culpepper Virginia at the Mountain Run Winery.
What is Bellum Aeternus? Click here to learn more about what to expect at our annual grand event!
Tickets through pre-registration are $35 and cover the whole event. Okay tickets go on sale on January 28, 2022. Last day to pre-register is 11:59PM, March 25, 2022.
Tickets bought at the door and after pre-registration ends abide by the following price schedule:
Wednesday: $40
Thursday: $35
Friday: $30
Saturday: $25
Children under 16 attending: We plan to introduce a family camping area and allow families to bring children under the age of 16, in light of the pandemic and heightened safety guidelines understand that any children in attendance will also have to adhere to meeting the federal definition of Fully Vaccinated.
Spectators: Due to the pandemic we have had to cancel our tradition of allowing free spectators to visit us on Friday and Saturday.
Why Pre-register?: Pre-Reg saves you money, makes check-in easier for you (and our staff), you get some free extra bonus credits for your character, and the first 50 to pre-reg get an Official Bellum Aeternus IX water bottle at check-in in your choice of Green or Red. Make a statement and hydrate by showing your support to your Crown Contender of Choice in this year's crown war.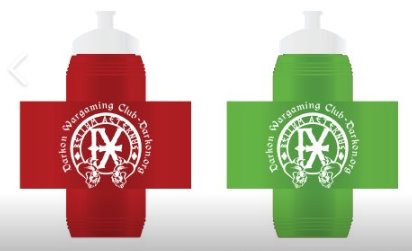 IMPORTANT BEFORE PURCHASE: Review our Overnight Camping rules here (take note, for the family camping policy all attendees are required to meet federal definition of Fully Vaccinated and have proof (the physical card or a picture of it) of vaccination. As children under the age of 5 years are not eligible for the vaccine proof of vaccination for these individuals is not required.

Disclaimer: This event and its details are all subject to change based on changes to safety guidance. For the latest updates please join the Facebook groups mentioned at the bottom of this post.
Also be advised that safety precautions in light of the pandemic will be required throughout the event. Those attending must provide proof of full covid-19 vaccination (as defined by federal government) in order to obtain entry. Any previously stated requirements for entry have been replaced by this new policy. Click here to read detailed information about our COVID precautions/ safety requirements.
While our staff are going to great lengths to make this event as fun and safe as possible, it is important for persons to evaluate their own level of risk. If you are not able to comply with our entry requirements or feel it is not in your best interest to attend this year , we understand and hope to see you at a future event once we are out of the pandemic.
Complete the section below with your legal name and the class (fighter, bard, mage, etc.) you wish bonus credits to go into. The link will then direct you to Paypal to complete your transaction. (Pre-registration ended on 3/27/2022 so the pay pal link has been removed.

Major credit and thanks to Lisa Meyah for this year's amazing Bellum Logo! Bellum Aeternus X. Setting sail for the next decade!
Learn more about Darkon Crownlands and connect with our chapter on Facebook here: https://www.facebook.com/groups/darkongroup
Check out the Facebook event page for latest event updates here.